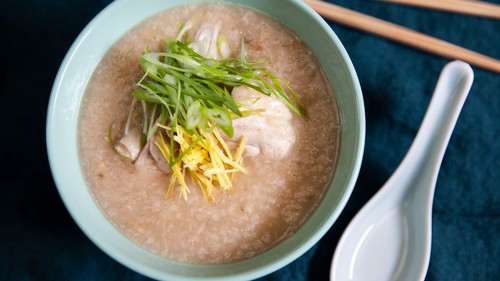 This comforting Chinese chicken and rice porridge has an extra depth of flavour thanks to briny dried scallops and preserved duck eggs.
Serves 6Prep time 20 minutes
Total time: 1h 30 minutes plus 2 hours marinating
INGREDIENTS
1600 gram) free-range chicken
1 tablespoon plus 1/2 teaspoon of kosher salt
1 1/2 teaspoons galangal Powder
60 ml Shaoxing wine
6 scallions. 2 pieces cut into 2-inch sections. The remaining thinly sliced on an angle.
1 piece (2-inch) ginger, half peeled, thinly sliced, and half peeled.
julienned
100 grams sushi rice, soaked overnight or at least 30 minutes and drained
50 grams jasmine rice, soaked overnight or at least 30 minutes and drained
1 tablespoon vegetable oil
Half century egg
3 tablespoons dried scallops. Let sit for an hour before slicing.
2.35 liters chicken stock
DIRECTIONS
Marinate the chicken by thoroughly rubbing it with 1 tablespoon salt.

 

Galangal powder should be sprinkled on the underside.

 

Cover the bowl and let it cool in the refrigerator for at least two hours.

Bring a large saucepan of boiling water to a boil.

 

Add the Shaoxing wine and chicken to the saucepan.

 

Cover the pan and allow to cool on low heat for 30 minutes.

 

Let the chicken cool in the water for a few minutes before chopping into pieces of 1/2-inch.

Toss the rices in the oil. Add the 1/2 teaspoon salt.

 

Use your hands to crush the century egg and incorporate it into the rice.

Bring the stock to a boil in a large saucepan.

 

Bring the stock to a boil. Add the rice mixture.

 

To ensure it doesn't scorch, stir the mixture for 5 minutes.

 

Keep the congee simmering by adding the soaked scallops.

 

Stirring occasionally, cook the porridge for 55 minutes, or until the rice is dissolved and the porridge has thickened,

Cook the chicken in the congee for 7 minutes.

 

Season the congee with salt and pepper.

Divide the mixture among two bowls, and garnish with the julienned ginger and the sliced scallion.
Find more recipes in the Munchies Recipes